Get to know the European Wasp
The European Wasp Hotline is a free advice service. For eWasp nest reporting and treatment/removal advice, contact the eWasp Hotline.
The European wasp is an aggressive stinging insect.
The European wasp (Vespula Germanica) is an established pest in Australia.
The European wasp is identified by its black and yellow body, yellow legs, triangular markings on the abdomen, black antennae's. The European wasp is the same size as the European honeybee but the European w...
Read more
Latest Video
Play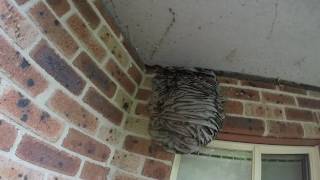 Latest video shows how eWasps will attack in large numbers, and sting multiple times, when you get to close to their nest.
Photo of the week
Image of the week is of a European wasp nest, image taken by Glen Braithwaite from Holdfast Photography. These girls never rest, they work hard all day every day to ensure the survival of the colony. If you would like to share one of your images, please send them to info@ewasp.com.au.