Get to know the European Wasp
The European Wasp Hotline is a free advice service. For eWasp nest reporting and treatment/removal advice, contact the eWasp Hotline.
The European wasp is an aggressive stinging insect.
The European wasp (Vespula Germanica) is an established pest in Australia.
The European wasp is identified by its black and yellow body, yellow legs, triangular markings on the abdomen, black antennae's. The European wasp is the same size as the European honeybee but the European w...
Read more
Latest Video
Play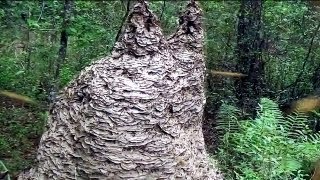 Latest video is of a massive Yellow Jacket (in Australia, known as the European wasp) wasp nest in Tampa, Florida, USA - Treated by entomologist and bee removal expert Jonathan Simkins.
Photo of the week
Image of the week is of a European wasp with a pea. Image provided by photographer Shane Lear, from Orange NSW region. If you have any insect images you would like displayed on our website, please send them to info@ewasp.com.au.