Canberra's European wasps causing a buzz in Japan
By Lachlan Roberts 17 February 2019
A film crew from Japan are documenting European wasps in the ACT. Photos: Supplied by CoreEnviro Solutions.
They might be causing less hassle this summer compared to previous years but the ACT's European wasps are still causing a buzz across the Pacific Ocean.
A Japanese film crew has arrived in the nation's capital to shoot a film on European wasps in the ACT and across Australia, detailing the wasp's impact on the local community and treatments used to manage the pests.
Led by a Japanese wasp and hornet specialist, the film will compare the different methods used in Japan and Australia to treat the nests, with CoreEnviro Solutions' Jim Bariesheff showing the 10-man crew to known local hot spots and the methods he uses to defuse a nest.
Mr Bariesheff said the ACT's recent record number of nests and their social media campaign educating the Canberra public caught the eye of the Japenese specialist, who wanted to share his techniques and learn new ones.
"The Japanese specialist uses a non-chemical method and he uses other techniques like steam and tracking to eradicate the nests," Mr Barisheff shared. "There are no European wasps in Japan but they have 16 different hornet and wasp species, including the Asian giant hornet which is the most dangerous one of all.
"I have been showing the crew how we deal with wasps and our different methods of tracking and he has shown me his own personal techniques to exterminate a nest. To track a wasp, he puts out a little bait attached to paper and follows it back to its nest."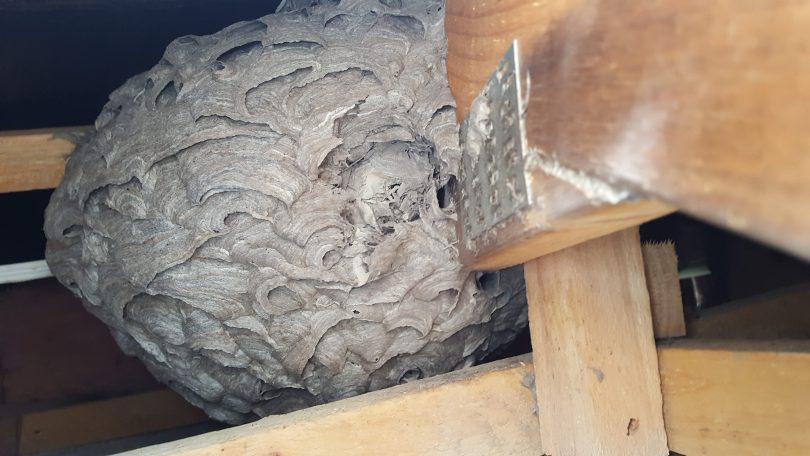 A European wasp nest found in Condor.
There has been a significant decrease in European wasp sightings in Canberra compared to last summer, with only 140 eWasp nests and 13 stinging incidents reported to the eWasp hotline since the first day of summer, compared to 450 nests this time last year.
1,052 nests were treated in the ACT last summer, which Mr Bareisheff said was due to recent publicity and more people reporting nests.
"People are becoming more aware of European wasps and what they have in their backyard, in their roof or in their wall cavity. People reported more nests last year when they realised it wasn't bees in their garden," he said.
"Our baiting program was also quite successful and have diminished the number of nests on public land. Every time we control a nest or do a baiting program we are reducing the wasp population for the following year."
People are advised to stay clear of nests, report them to the eWasp hotline on 6258 5551, or call a pest control company as soon as possible.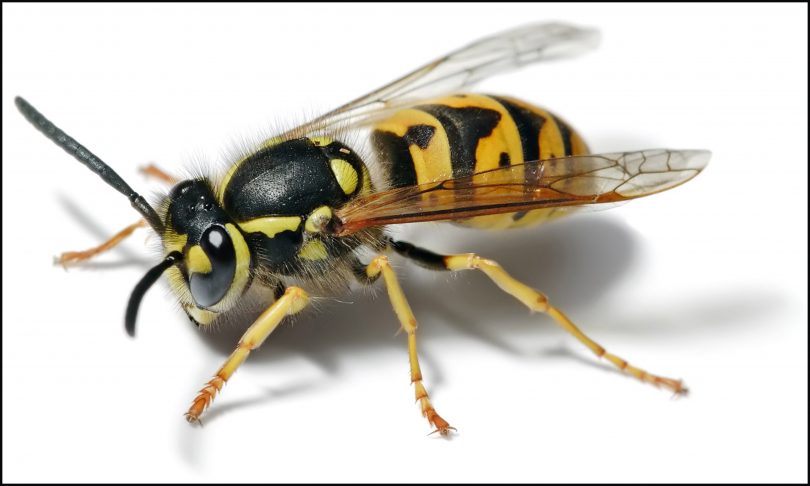 What to look out for:
The European wasp is the same size as the honey bee — about 12 to 16mm long. The wasp is less hairy and folds its wings back at rest.
European wasp queens have identical markings and colouring as the worker wasp but have a larger abdomen and can grow up to 20 millimetres in length.
The nests are often hidden, the most common nesting sites in wall cavities, a hole in the ground, roofs and even in conifer trees. Wasps can gain access through cracks, crevices and holes around windows and door frames. When an eWasp queen makes her nest in one of these locations, a steady stream of wasps will be seen leaving and returning to the nest as the day warms up.
If anyone comes across individual wasps, they are encouraged to treat them with a registered insecticide. It is recommended that established nests are treated by a qualified pest controller to avoid any possible stinging incidents and to ensure the nest is properly controlled.
What to do if you are stung:
If threatened or the nest is disturbed, European wasps emit an alarm pheromone summoning the rest of the colony to attack.
The European wasp is more aggressive than bees and will attack when their nest is threatened or disturbed. Unlike bees, wasps can sting more than once, and do not die after stinging. The sting causes a burning pain and swelling. If stings are multiple, a more severe systemic reaction may occur.
If stung, a cold pack may be used to relieve the pain. If there is evidence of a more severe reaction or the victim is known to be allergic to wasp and bee venom, medical attention should be sought immediately.